Last birthday in the "forties" for Tammy today! It's a Sunday and so we have a day off together. So far, we've had:
Cards and presents
FaceTime/Skype calls with Dave, Colin and Carol and Stephanie and the whole fam
Tammy's favourite meal: Eggs Benedict made by the kids
This afternoon I'll be putting her cake together and we'll enjoy that with some stir-fry at some point. We aren't going out to a restaurant today, even though they are open now. Maybe by the time Ian's birthday rolls around things will be more normal? 🤞
We don't want to talk much about the cake. It was delicious, okay?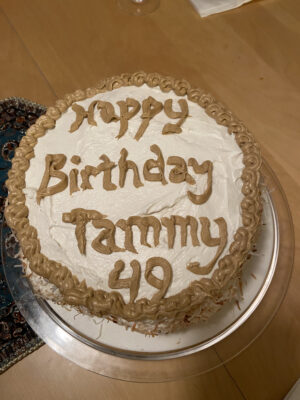 One of the three cake layers didn't want to come out of the pan. It didn't have a lot of structural integrity but I decided to make it the center layer anyways. Icing will hold it together, right?
Nope.