Ian and I are currently sitting in the parking lot at the Tsawwassen ferry terminal, waiting for a ferry to take us to Victoria. We might make the 8, or we might have to wait for the 9.
We are heading to Victoria to take part in the 2021 Tour de Victoria. Tammy's working and Miranda's up to her neck in Grade 12 IB, so it's just Ian and I. It's Thursday, and the ride's on Saturday.
It might have been a normal drive from Calgary except for the season, but Highway 1 is closed right now because of the construction at Kicking Horse Pass, just east of Golden. So after we passed Banff this morning, we turned west and followed Highway 93 to Radium. We couldn't see much for most of it, but once the sun rose, the scenery was nice.
Then we rolled into Golden. We made our only "restaurant stop" of the day: at the McDonald's drive-thru. Our stops today were rest areas, eating our sandwiches and chips we brought in a cooler.
The day was pretty wet for the most part. At some times, like on Highway 5 between Kamloops and Merritt it was a downpour.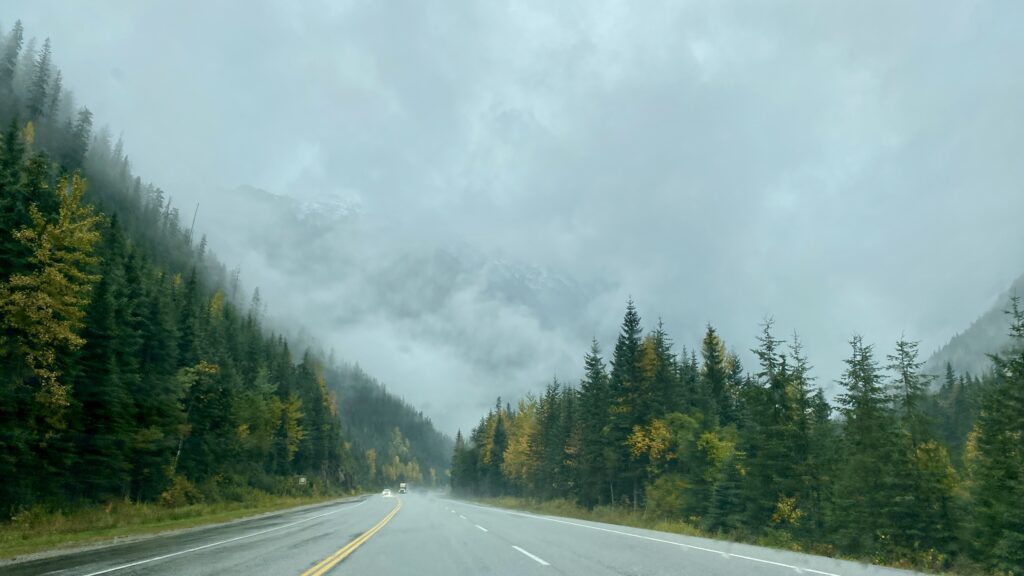 Can't complain though: it could have easily been snowing in the mountains.
The other worry besides the weather was the ferries: apparently there were a lot of cancellations yesterday because of the weather and one of the ferries breaking down. It was supposed to be even windier today. We were prepared to stay at a hotel in Vancouver if we couldn't make it.
In the end, I think the only issue (besides a couple of cancelled sailings) was that yesterday's frustrated travellers came today. We got to the terminal by 4:30, but there's a three-sailing wait. It gave Ian and I a chance to walk around and stretch our legs.